"PROTECT, DETECT, RESPOND"
Looking for a DPO in Belgium? At DPO Associates, we believe in a world where data privacy is central. We are a leading company in GDPR compliance and work with organizations to help them meet strict data protection standards.
Our mission is to make GDPR understandable and accessible to every SME so they can reap the benefits of data protection without feeling overwhelmed.
It's time for SMEs to take the plunge and take GDPR seriously.
Click here to find out how we can help you protect personal data, build trust and comply with the law without breaking your budget.
Our vision is clear: Protect, Detect, Respond. We are committed to protecting your data from unauthorized use, data breaches and cyber threats. With our expertise and advanced technology, we offer a comprehensive range of solutions and services to keep your data safe and make your organization GDPR-compliant.
Protect:
Our team of experts works closely with your organization to build a solid foundation for data protection. We help create and implement data protection policies, conduct risk assessments and establish security measures. With strong encryption, access controls and monitoring systems, we ensure that your data is safe from unauthorized access.
Detect:
In addition to proactive protection, we provide advanced detection technologies to quickly identify potential breaches or violations of the GDPR. Our advanced monitoring systems and analytics enable us to detect suspicious activity, data breaches and vulnerabilities. Timely detection allows us to act quickly and minimize damage.
React (respond):
In the event of a data breach or GDPR violation, we are ready to respond quickly. Our experienced incident response team is ready to evaluate the situation, mitigate the impact and take the appropriate steps to comply with reporting requirements. We will guide you through the response process and help you regain control of your data.
At DPO Associates, we understand that data protection is an ongoing process. We provide ongoing support, advise on best practices and ensure your organization stays up-to-date with the latest developments in data protection and GDPR compliance.
Trust us as your trusted partner in GDPR compliance. Together, we build a secure and trusted digital environment where data privacy is ensured and organizations can operate with confidence.
World class professionals
We have professionals in our network with solid expertise and experience in AVG consulting.
Our consultants are flexibly deployable in your business no matter how long you need their services.
Our GDPR consultants have already guided many companies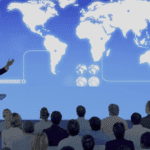 The AVG has changed the way personal data is collected, shared and processed.
Not only in Belgium but worldwide. As of May 25, 2018, all organizations must review and change their policies, processes and contracts, as well as technical and organizational compliance measures, or risk heavy fines.
Are you already compliant with the AVG?
We are here to provide a fresh perspective. Ready to work with us?